Get Directions
101 Civic Center Lane
Lake Havasu City, AZ AZ 86403
Get Directions
Havasu Regional Medical Center is fully equipped and ready to handle any emergency you or your family member might experience - whether it's as minor as a fractured wrist or as life-threatening as a heart attack, we are here to take care of you.
Our Emergency Department is NEVER CLOSED. We are ready to treat your medical issues. Our Board Certified physicians are here to care for everything from minor injuries to Heart Attacks, Strokes and Trauma. Because we see a wide range of medical conditions and injuries, care is given by priority with the more severe medical conditions being seen first.
Next Steps
Find Us
101 Civic Center Lane
Lake Havasu City, Arizona 86403
Get Directions
For Emergencies
Call 9-1-1 if you or a loved one is experiencing a medical emergency.
Call 911
Certified Level Three Trauma Center
HRMC is an American College of Surgeons certified Level Three Trauma Center. We staff our trauma center with physicians that were trained and still continue to work in Level 1 Trauma centers—bringing a higher level of expertise to our community.
What You Should Bring to the ER:
Bring the medication bottles for every medication you take. This includes over the counter medications, herbal remedies, creams used for skin irriation, nasal spray, etc.
Bring a current list of all the physicians that you currently see, for any reason.
Bring a list of your drug, food and environmental allergies (latex, peanuts, codeine, insects, etc.) and what type of reaction you have to each one (hives, difficulty breathing, swelling of lips, etc.).
Think about and be able to describe how you feel and what is different from your normal health status. Also, describe what you have done to care for yourself, i.e. "pain in my right leg which started yesterday while I was sitting", "the pain has gotten worse even after I took Tylenol and Motrin every six hours", or "it's a cramping and constant pain".
Have the name and contact phone numbers of the person you want to be contacted should the need arise.
Bring a copy of your Advance Directive.
Bring a list of your past medical history, including medical conditions such as diabetes, gallbladder surgery, etc.
HRMC is a certified Chest Pain Center- What does that mean to you?

Havasu Regional Medical Center have been accredited as a Chest Pain Center with Primary PCI by the Society of Chest Pain Centers . What's that mean for you?? Hospitals awarded this designation have the ability to treat acute heart attacks 24/7 every day of the year and meet high quality standards in the care of the cardiac patient. Our team is comprised our EMS agencies, Emergency Department physician and staff as well as a call team made up of the cardiac cath lab staff and an interventional cardiologist who arrive to the facility within 30 minutes of an acute heart attack (STEMI) activation. We have maximized efficiencies which lead to quick treatment and improved outcomes, which include:
The ED physician having the authority to activate the cardiac cath lab
No STEMI Diversion Policy which means we are always available for Heart Attack patients
Formalized back-up process in case we have more than one heart attack at a time
Defined roles and responsibilities for all Heart Attack (STEMI) team members
As part of our Chest Pain Center certification, we look at all aspects of cardiac care. We have found a majority of our Heart Attack patients drive themselves to the Emergency Room which can lead to bad outcomes. Calling 911 gets care to the patient quicker and allows the Emergency Department to prepare in advance for the patient arrival.
Learn more about Chest Pain Awareness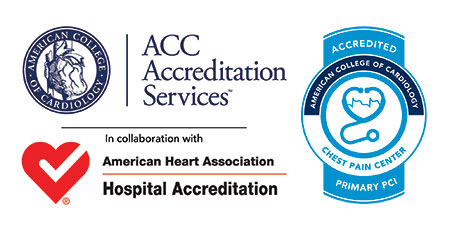 Why Call 911?
More than 50 percent of all patients experiencing chest pain walk into the Emergency Room rather than calling 911 and in Lake Havasu, that percentage is actually quite a bit higher. The reasons for this are numerous, ranging from the instinct to just jumping in the car and driving to the nearest hospital to the misunderstanding that the emergency squad is just a transport vehicle. The fact remains: calling 911 starts treatment earlier.
911 dispatchers are often trained to locate you quickly and assist you in early treatment options
In many areas, Emergency Medical Services (EMS) can diagnosis a heart attack by using an electrocardiogram (ECG) and also initiate early treatment
Arriving by ambulance to the Emergency Room helps to ensure that you will not wait to be seen by a physician. Many patients who experience chest pain drive themselves, only to find that they may wait in the Emergency Room lobby until they can see the doctor.
EMS can radio ahead to the Emergency Room that you are on your way. This enables the Emergency Room staff to be ready for you when you arrive through their doors.
Don't Drive, Stay Alive