Located in beautiful Lake Havasu City, Havasu Regional Medical Center is a licensed 171-bed acute care facility fully accredited by The Joint Commission and is just a few hours drive from Phoenix, Las Vegas, and Los Angeles.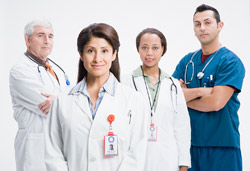 Providing 24-hour emergency services, it is also a state certified ALS Base Hospital, authorizing medical direction and support of pre-hospital care providers, fire department paramedic, and ambulance personnel. HRMC is also an American College of Surgeons certified Level 3 Trauma center staffed by Level 1 trained Trauma surgeons. The facility offers a full complement of patient-centered, community hospital and regional referral services in most major medical disciplines, including open heart, complex spine surgery and neurosurgery. More than 100 affiliated physicians and allied health professionals comprise the medical staff and represent a broad cross-section of specialty areas.
To see our current listing of job openings and to apply for a great career opportunity, click one of the links below:
Registered Nurse (RN) Positions
Employment Information
Equal Employment Opportunity
HRMC is committed to a policy of providing equal employment opportunities for all applicants and employees, and will comply with all applicable laws prohibiting discrimination against any applicant or employee for employment because of color, race, gender, age, religion, national origin, disability or any other basis protected by applicable federal, state or local law.
In compliance with the provisions of all applicable state and federal civil rights laws, every effort will be made to employ the most qualified individuals without regard to the above factors and to provide reasonable accommodation to any handicaps or disabilities of qualified individuals. Additionally, it is our policy to provide promotion and advancement opportunities in a non-discriminatory fashion.
We are committed to a work setting that treats all employees with fairness, dignity, and respect and affords them an opportunity to grow, to develop professionally, and to work in a team environment that values the diverse background of each employee.
Persons believing they have been discriminated against, or who witness what they believe is unlawful discrimination against another person, must report their concerns to their supervisor or to the Human Resources Department.