Havasu Regional Medical Center Auxiliary Motto:
"A Gift of Time is Priceless"
The Havasu Regional Medical Center Auxiliary provides support to the hospital and the community alike. We currently have 130 members who devote, on average, 4 hours of service per week to the hospital.
You will see our members in all areas of the hospital - from the Front Information Desk volunteers directing patients and family members to their destination to those providing refreshments to the patient rooms.
We have a small and mighty group who operate Lifeline. This for fee service provides their clients with access to outside assistance with the simple touch of a button. The Lifeline members install and maintain the equipment and supervise the billing and collection of fees.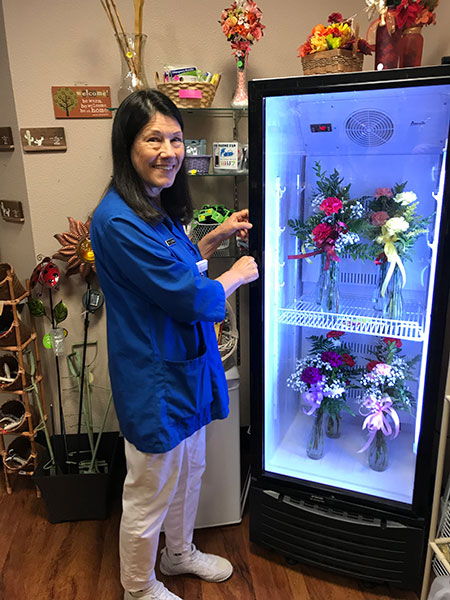 Our talented and dedicated volunteers in the Craft group meet on a weekly basis and create beautiful items which they offer for sale in the Gift Shop and at their Spring and Holiday Boutiques and Bake Sales. If you have never had a chance to attend one of their Boutiques, please watch the local newspaper for dates and locations - you will be pleasantly surprised.
Our members also operate the Gift Shop located off the main lobby of the hospital. We offer top quality merchandise which changes on a regular basis – why not stop by and see what is available? Our volunteers will greet you with a smile and help you pick just the right gift for yourself or someone else.
These services are the cornerstone of our money making projects and provide the means needed to support our Scholarship and Community Charitable Donation Programs. Our auxiliary provides scholarships to local residents pursuing an education in the medical field. In the past thirty years, we have helped many local recipients fund their higher education. Additionally, we provide donations to qualified non-profit charities
in the community.
Four times a year, our auxiliary hosts Blood Drives for Vitalant Blood Services. These drives are held at the Aquatic Center and are enthusiastically supported by the community. Our hard working members coordinate the times, contact previous donors, man the check in tables and most importantly, make sure the cookies and juice are ready for those who donate.
In addition, our members assist in the following areas of the hospital:
Cardiac Cath Lab; Chaplaincy; Emergency Department; Front Information Desk - main hospital and east unit; Labor and Delivery; Outpatient Surgical Center; Radiation/Oncology;Courtesy Cart and Shuttle Service.
Our members are asked to donate a minimum of 50 hours of service annually to the auxiliary. The majority of our services operate from 8:00 AM – 4:00 PM, Monday through Friday. Our volunteers work 4 hour shifts, primarily from 8:00 AM – 12:00 PM and 12:00 PM – 4:00 PM. Additionally, Outpatient Services has volunteers on duty from 4:30 AM – 8:00 AM.
If you are a vital adult who has 4 hours a week to donate in service to others, we would encourage you to explore the benefits of volunteering at our local hospital.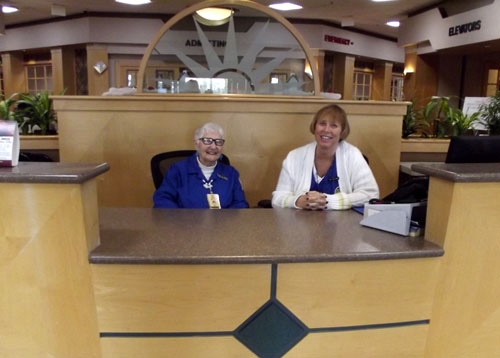 To obtain more information about serving in the Volunteer Program, please call 928-453-0812.
If you would like to submit an application to begin working with the Volunteer Program, simply click on the link below, print off the application, information sheet and background forms and bring it to the Auxiliary Office or mail it to Havasu Regional Medical Center at 101 Civic Center Lane, Lake Havasu City, AZ 86403.
Information about Volunteering