The Only Level III Trauma Center in Northwestern Arizona
Our Level III American College of Surgeons Certified Trauma Center is fully equipped to handle the most urgent and serious traumatic injuries. Our team evaluates, treats, and provides follow-up care to people who are critically injured in accidents, those who need immediate critical care, and patients with broken bones, brain and spinal cord injuries, deep lacerations, and life-threatening conditions.
Next Steps
Watch Education Videos
Watch our collection of free trauma education videos.
Watch Now
Find Us
101 Civic Center Lane
Lake Havasu City, Arizona 86403
Get Directions
The Regional Trauma Center is expertly staffed by board certified trauma surgeons in the hospital 24 hours a day, 365 days a year. Our trauma surgeons have trained and are still working at Level 1 Trauma centers bringing a high caliber of expertise to our community. Our highly experienced trauma team works closely with regional Emergency Medical Services (EMS) providers and medical evacuation helicopters. We have an on-site landing pad that enables air rescue and critical-care transport to Havasu Regional Medical Center at any time, day or night.

A trauma center is required to have 24-hour availability of a trauma resuscitation team that includes healthcare providers from the Emergency Department, Intensive Care Unit, Operating Room, and Post-Anesthesia Care Unit, as well as specialists from Respiratory Therapy, Radiology, Lab, Blood Bank and Pharmacy.

Individuals with life-threatening injuries or illnesses are given priority admission and immediate access to our full array of advanced diagnostic and imaging services under the direction of our trauma surgeons.
Following initial treatment in the Emergency Department, the trauma team provides care to patients through their hospital stay and after discharge if necessary, including follow-up visits with the trauma surgeons at an out-patient trauma clinic.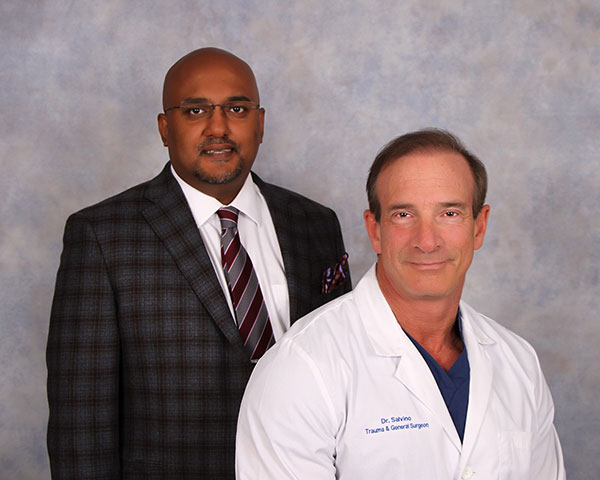 Dr. Matthew Edavettal, left and Dr. Chris Salvino, right.
The trauma team is led by a Trauma Surgeon who is board-certified. If needed, the trauma surgeon will consult with our expert specialists, including emergency medicine, neurosurgery, urology, orthopedics, hand, plastic surgery and others.