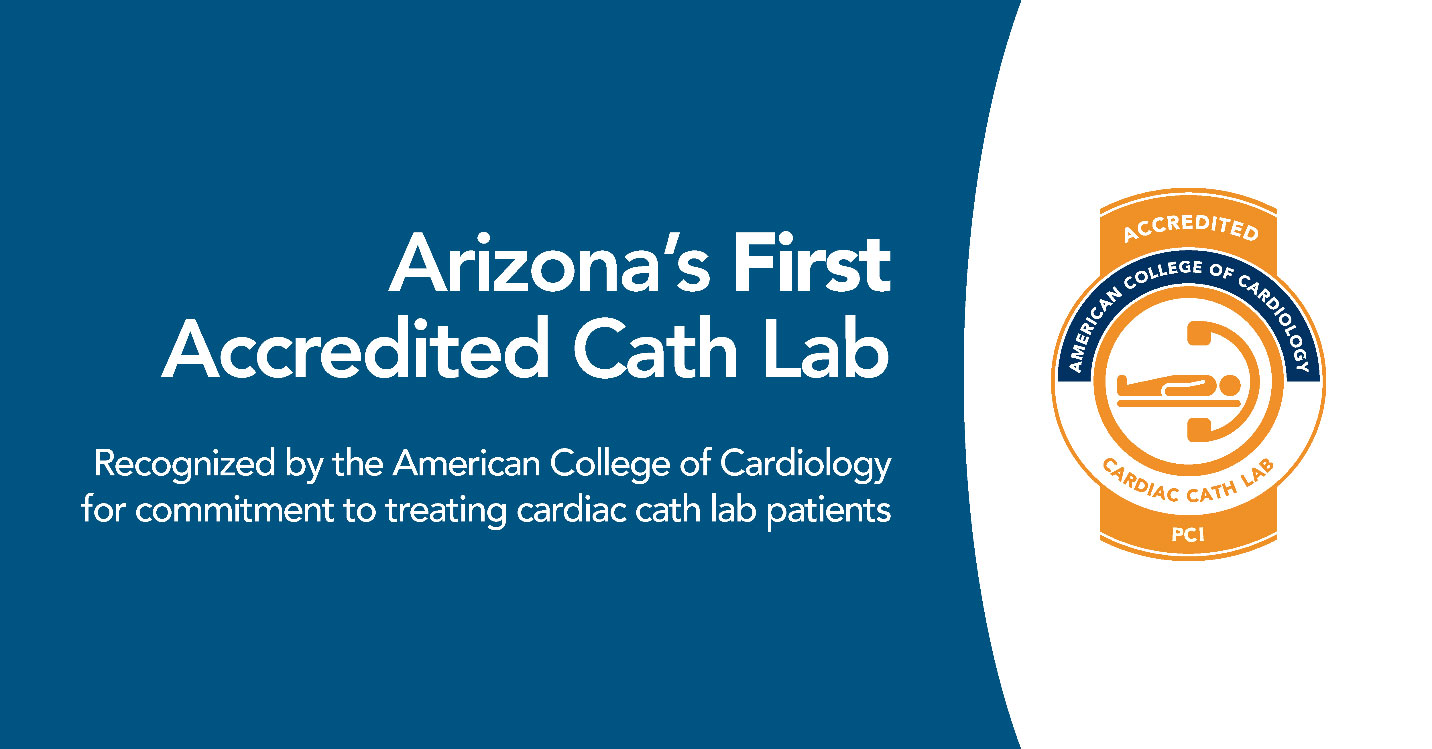 Exceptional Quality. Locally.
Havasu Regional Medical Center was awarded Cardiac Cath Lab Accreditation with PCI in February 2019 by the American College of Cardiology Accreditation Services based on rigorous onsite evaluation of the staff's ability to evaluate, diagnose and treat patients who come to the cardiac cath lab. Havasu Regional Medical Center is the first and only hospital in the state of Arizona to earn this accreditation and one of only 24 hospitals in the nation.
Cardiac Catheterization Lab
Havasu Regional Medical Center's team of cardiologists perform procedures to diagnose and treat coronary artery disease (narrowing or blocked arteries), abnormal heart rhythms and peripheral vascular disease. These common treatable conditions can increase the risk of high blood pressure, heart attacks, stroke, or loss of limbs. Many non-surgical treatments are also available.
Our cardiologists and cardiac catheterization team use minimally invasive instruments and techniques to get you safely back home as soon as medically possible, most times the same day as the procedure. Havasu Regional Medical Center's on-site cardiovascular surgeons and open heart bypass surgery team are available for more advanced surgical options for patients with life threatening heart conditions and diseases.
Havasu Regional Medical Center Diagnostic and Interventional Cardiology offers the following services:
Coronary Angiogram: Diagnostic imaging and pressure measurements
Flow measurements: Intravascular ultrasound (IVUS), Fractional Flow Reserve (FFR), Instantaneous Free Wave Ratio (iFR)
Angioplasty and stent placement of the heart and peripheral arteries
Rotational Atherectomy to remove calcified narrowing of the artery
Thrombectomies to remove clots from arteries
Implantation of devices for abnormal heart rhythms: cardiac monitors, pacemakers, defibrillators, and resynchronization devices
Intra-aortic Balloon Pump / Circulatory Assist Device insertion
Our goal at Havasu Regional Medical Center for our cardiac patients is to restore and enhance our patients' quality of life by:
Restoring healthy blood flow to the heart
Reversing dangerous conditions such as congestive heart failure
Reducing risk of heart attacks and strokes
Saving limbs, eliminate pain and improve mobility
Providing the best possible treatment options for all types of arrhythmias
For more information or to make an appointment, please call (928) 855-8185.