UPDATED: WEDNESDAY May 26, 2021
Havasu Regional Medical Center recognizes the important role that loved ones play in a patient's healthcare journey and we appreciate how understanding our communities have been with our Limited Visitation Policy during the last few months. After careful consideration HRMC has revised its visitation policy effective Wednesday, May 26, 2021.
More than 1 visitor per patient will now be allowed
All visitors:
Will be screened for temperature, COVID-19 symptoms, possible exposure and recent travel history
Must bring a facemask to wear at all times while in the hospital
Observe all hospital protocol and appropriate social distancing.
This excludes visitation for patients in isolation for confirmed or potential COVID-19 where we will continue to have a no visitor policy, except for extenuating circumstances.
UPDATED: MONDAY May 18, 2020
At Havasu Regional Medical Center, our top priority is safeguarding the health and wellbeing of our patients, providers, employees and community. We continue to closely monitor the prevalence of coronavirus (COVID-19) in our community and follow state and federal guidance as we adapt our operations to safely care for and support our patients. As current projections continue to indicate a lower than expected volume of COVID-19 in our region, effective Tuesday May 19, 2020, we are easing our visitor policy as follows:
Patients will be limited to one WELL visitor per day, including one companion for ambulatory appointments and one support person for obstetric patients.
All visitors must be 16 years of age or older, will be screened upon entry and will be required to provide and wear a mask and armband at all times while in the facility.
Visitors who do not pass the screening at entry will be asked to reschedule their visit until they are symptom-free.
Visitors are NOT allowed for high-risk, isolation, immunocompromised or respiratory patients who are under observation or test positive for COVID-19.
We continue to screen everyone who enters our facilities for symptoms consistent with COVID-19, per CDC guidelines.
Please utilize alternative methods of communication, including technology, with patients as much as possible.
Signage is being posted around the facility notifying visitors and the community of these new restrictions and guidelines.
Thank you for your continued understanding and cooperation as we work to maintain a safe environment for our patients and team.
UPDATED: Monday April 27, 2020
Our first priority is to keep our patients and our staff members safe and to reduce the potential for exposure to COVID-19. The CDC and our local health department recommends that we limit visitors in order to protect our patients, staff, and the community. While we recognize that visitor restrictions have been very challenging for our patients and their loved ones, it is the right thing to do during this unprecedented time. We hope we are able to loosen up those restrictions as we see a flattening of the curve of COVID-19 patients.
In the mean-time, we want our patients and their family members to communicate as much as possible through technology. Phone calls directly to patients, either through their personal cell phone or by calling the hospital and being transferred to their room, are always welcome. We also recommend patients and their family utilize one of the many video conference apps that allow you to see each other as you talk. We had a very generous donation of used I-Pads and Smartphones that patients have been able to use, if needed, to connect in this way with their families.
There are also a few exceptions to the visitor restriction policy:
Patients who are end-of-life care may have family members visit
One visitor for each new mom is allowed in labor and deliver
One visitor is allowed if needed as part of a scheduled family training for patients with rehabilitation or for help with ADA or cognitive needs
Pediatric patients may have one parent stay with them for the duration of the hospitalization
If a family member does not have a way to get a hold of a patient in the hospital, they should call 928-302-5453 and they will be connected to the patient or the patients nurse. Please keep in mind that we do have to confirm with the patient that it is OK to share information about their hospitalization before information can be released.
We appreciate all of our patients and their family members. We know this is a difficult time and we ask for your continued support as we work through this.
UPDATED: Wednesday March 25, 2020
To help ensure the safety of our patients, providers, employees and community, our hospital will implement a zero-visitor policy effective at 5am tomorrow, Thursday March 26th. We understand this will be difficult for family members who have a loved one in the hospital. However, we feel this is in the best interest of everyone at this time. Thank you for your cooperation and understanding while we stay focused on providing high-quality care.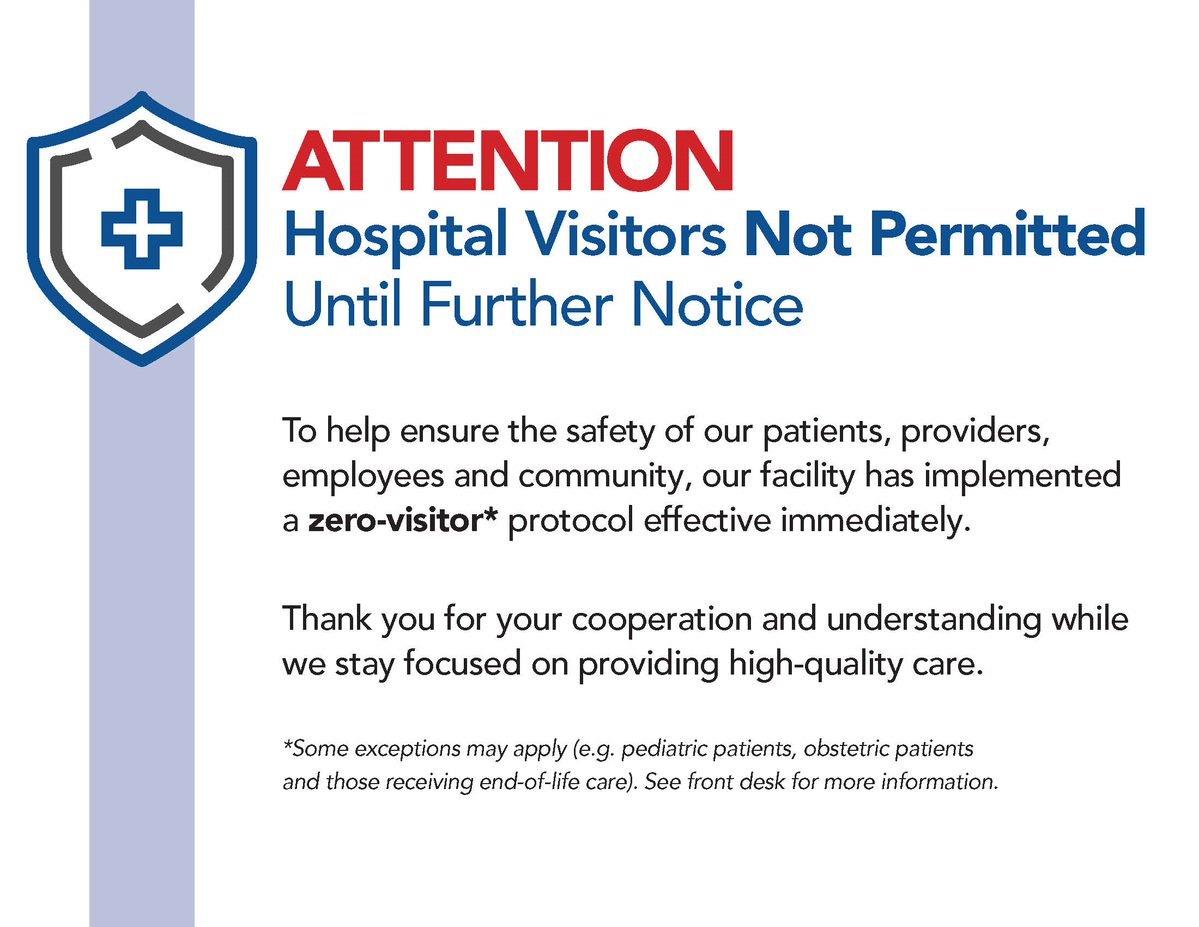 As we continue to respond to the continuously changing COVID-19 situation, in accordance with guidance from the Governor and Arizona Department of Health, we are implementing strict visitor restrictions, moving to a zero-visitor protocol.
Limited exceptions to this visitor protocol may be extended on a case by case basis.
Per CDC guidelines, everyone entering our facility will be screened for respiratory symptoms and travel history. We have also suspended our volunteer and student programs at this time.
Common Areas Closed
We have temporarily closed our gift shop, chapel, and cafeteria as another step to minimize the risk of exposure to patients, employees and the community. Our cafeteria will continue to operate for patients only.
For more information on our full Visitor Policy contact our Director of Public Relations Jeni Coke. Please call: 928.854.5189