The Value of Cardiac and Pulmonary Rehab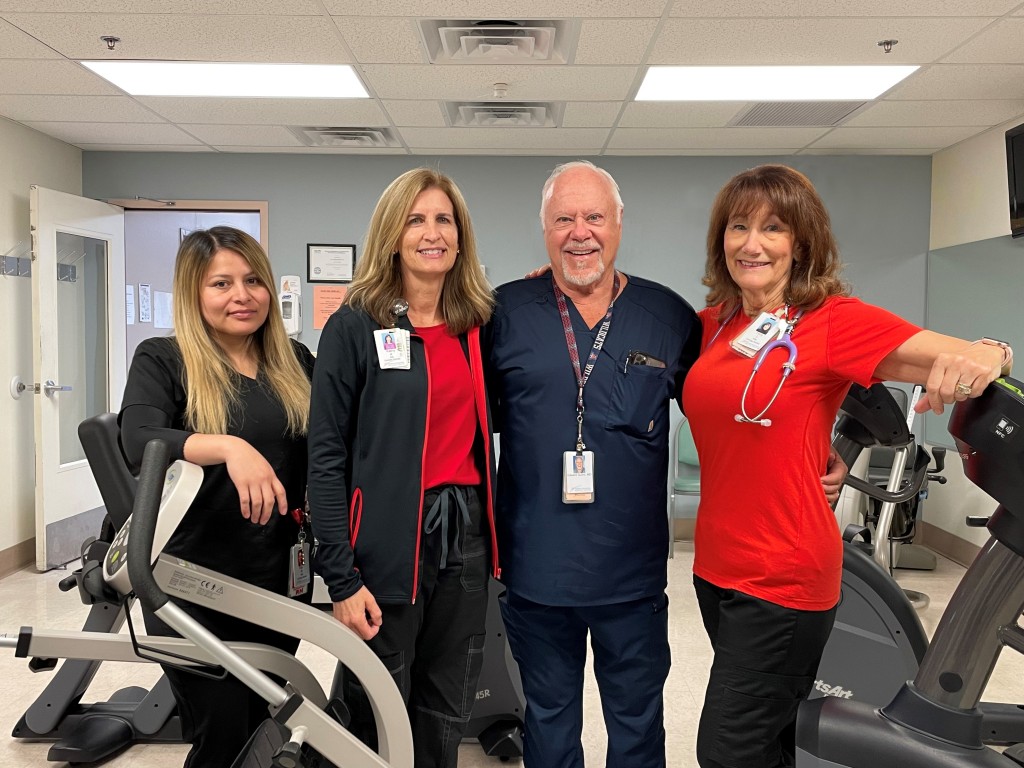 As studies continue to show that a large percentage of heart disease can be preventable, Havasu Regional Medical Center is taking a pro-active approach to lowering risk for patients.
Cardiac rehab is a "vital step for people who are recovering from coronary heart disease, heart attacks, bypass surgery and many other heart conditions," said Terry Lahey, RN.
According to the American Heart Association, each year about 935,000 Americans have a coronary event and more than 30% will have a second potentially more fatal event.
"Cardiac rehab helps reduce the risk of having another cardiac occurrence through exercise, education, counseling, and healthy eating. Our goal in cardiac rehab is to improve patients' quality of life, energy and overall health; and to reduce the risk of future cardiac problems," said Terry.
HRMC has been providing cardiac rehab services since 2008. The program is certified by the American Association of Cardiovascular and Pulmonary Rehabilitation and includes both inpatient and outpatient care that encourage lifestyle modifications. Exercise sessions are EKG monitored, and patients are supervised by registered nurses (RN) and registered respiratory therapists (RRT) who are certified in advanced cardiac life support. Rehab staff help patients through each exercise session, talk with them about their concerns and keep them and their physician informed about their individual progress.
In addition to Cardiac Rehab, HRMC offers Pulmonary Rehabilitation for patients diagnosed with various lung diseases. The pulmonary program will be expanded from two to three days a week beginning July 6th to help those patients who struggle to breathe normally. Patients who benefit from pulmonary rehabilitation usually suffer from the following conditions: Chronic Obstructive Pulmonary Disease (COPD), emphysema, chronic bronchitis, asthma, pulmonary fibrosis, plus other respiratory diagnoses.
"HRMC has provided this program to patients for many years, but with the long-term effects of COVID-19, it seemed even more imperative to expand this program in the community. We have been working to ensure that we have a program that includes exercise and education for improved quality of life for our patients", said Director of Cardiac and Pulmonary Rehab, Edward Quinn, MD.
Though Pulmonary Rehabilitation, an outpatient treatment, cannot cure lung disease, it can help people make the most of their limited lung function. HRMC's program is an education, physical conditioning and training program designed to enhance quality of life to the highest possible level.
The exercise program is individualized for each patient by rehab staff consisting of the medical director, RNs and RRTs. Oxygen level and difficulty breathing are monitored throughout each exercise session. The goal is to increase independence and understanding of pulmonary dysfunction.
Both rehab programs are reimbursed by Medicare and most other third-party insurance carriers. All patients must have a written referral from their physician to participate. Exercise sessions last approximately one hour, and patients spend 4-12 weeks in the program depending on their condition and covered services.
HRMC's Cardiac and Pulmonary Rehabilitation clinic is located at 101 Civic Center Lane in Lake Havasu City. For more information, visit our website at HavasuRegional.com or call 928.302.5408
Read All Posts